"MIT says 360 credits are a circle. And I have come full circle around—from here where I was born back to here. And it might seem to me at times that life is full of circles. But it is not—it presses forward in helices, like in DNA." – Umaer Basha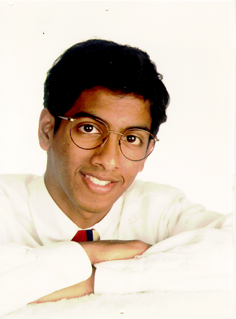 This quote, though short, gives us a glimpse into Umaer's perspective and lets us see how he effortlessly connected life and science. He was born in Boston, Massachusetts in 1979 but grew up in Lake Forest, Illinois, only to return to MIT in 1997 as a freshman. He had a thirst for science and a curiosity about life that never ceased, and, as his friend Markus Nystrom reflected, "Perhaps most admirably, his own achievements never came at the expense of others, but were always reflected and spread outward by his love for teaching, for passionate debate, and for the written word…His motivation, as he many times expressed, was to be of service to humanity."
Just as Umaer's achievements will always be cherished, the memories of a kind, generous and humble individual continue to survive through the numerous people whom Umaer met and touched in his brief life.
The Basha family has created The Umaer Basha Fund to honor the memory of Umaer. Through support of MIT's Angles magazine, The Umaer Basha Fund sustains an ongoing forum of exemplary writing from MIT's introductory writing courses in which bright young students like Umaer can express their own thirst for knowledge and curiosity about life.
If you wish to contribute to the Umaer Basha Fund, please visit: https://giving.mit.edu/.